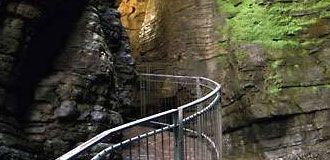 Its formation dates back to the Quaternary, when the great glaciers of Garda were dying.
It is a ravine of 55 meters, but the upper throat reaches a depth of 73 meters. The height of the waterfall measures 98 meters in total. The Varone waterfall can be seen from two different positions and with two different stages.
The first is low and is below the cave: from here you see the waterfall in its final stage. The second observation point is 40 meters higher, and is the upper cave where you can see the waterfall in the middle of its fall.
The building that serves as the entrance was designed by Mr.Maroni, the architect who signed the draft of the Vittoriale of D'Annunzio. Once you emerge from the back of the building, we are outdoors.
We are in a private nature park, a botanical garden preserved intact over the years, thanks to the good work of maintenance and care, the area of the waterfall is in fact a valuable ecological niche.