On the border between two regions, Lombardia and Veneto, south of Lake Garda, Valeggio is situated on the morainic hills that overlook the Po plain, close to two wonderful cities of art, Verona and Mantua. The valley of the Mincio, which crosses it from north to south, is a landscape of great natural charm, and the habitat for numerous species of birds.
Here, the economy is closely linked to the territory and is based on agriculture, a deep-rooted tradition and an increasing industrial activity, which has hampered the consolidation in recent decades, of a popular tourist destination.
Classified as "City of Art" for its artistic heritage, Valeggio sul Mincio can offer much to those who want to spend a holiday of culture, nature and gastronomy.
The valley of the Mincio and the hilly area surrounding Valeggio are perfect for long walks and cycling along many streets surrounded by the green. In Borghetto there is cycle track that follows the course of the river Mincio, to the North, Peschiera and Lake Garda, about 15 Km ahead and, to the South, the lakes of Mantova, connecting with other interesting cycling routes.
Castello Scaligero (XIII-XIV sec.) overlooks Valeggio and the Mincio valley from the top of the hill, keeping unchanged the evocative grandeur of the medieval fortifications. Almost completely razed to the ground by an earthquake in 1117, remains the only Round Tower, a unique building a horseshoe of X century. The rest of the complex dates from the fourteenth century. In July and August the courtyard becomes a stage for the events of entertainment, culture and film review.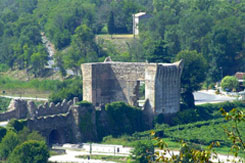 In
Borghetto
the landscape is dominated by the Visconteo Bridge. An extraordinary fortified dam built in 1393 by the order of Gian Galeazzo Visconti, Duke of Milan, in order to ensure the impenetrability of the eastern borders of the duchy. It's 650 mt.long and about 25 mt. wide, with the road to 9 mt. above the river; that's why, it is commonly called "Ponte Lungo". Completed in 1395, after only two years of intensive work, it was connected to the Castle by two high walls and battlements built into a fortified complex called "Serraglio", which extended for about 16 Km until Nogarole Rocca.
Villa Maffei
was the sumptuous summer residence of the Counts Maffei, lords of Valeggio and Monzambano since 1649. It was designed and built by the architect Vincenzo Pellesina (1637-1700) who inspired the most famous projects of Palladio. During the Risorgimento wars it housed Carlo Alberto of Savoy, Radetzky (1848) and Napoleon III (1859). On the back of the villa, in the "brolo", extends the
Parco Giardino Sigurtà.