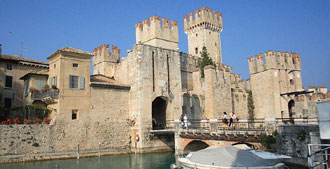 Sirmione Castle (XIII century) is full of towers and crenellated walls. It was a stratetegical basis for controlling the lake. This important castle was built in the thirteenth century, probably, by Mastino I della Scala.
It is surrounded by water and has an internal porch with Roman and medieval stone. There are some steps from the second fence, which is accessed by a drawbridge: from here you can admire the striking dock, an ancient sanctuary.
The doors were fitted with different locking systems: from the drawbridge carriage and pedestrian, to the metal sluice, and in more recent times, to the door on hinges. Sirmione, thanks to its geographical position, becomes the focal point of defense and control until the sixteenth century when the post is taken from Peschiera.
Venezia attaches Sirmione to its Republic in 1405 and it works to make the rock even more secure strengthening the walls and widening the old dock.