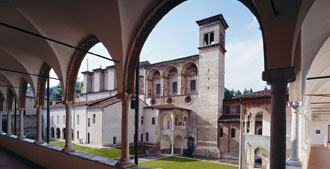 The female Benedictine monastery of San Salvatore and Santa Giulia is the head of the museum.
It was founded in 753 AD by the Lombard king Desiderius. The complex occupies the north-east of the ancient city.
Emblematic is the case of the Basilica of San Salvatore (VIII century) with the underlying archaeological area (Roman domus, in use since the middle of the first half of the fifth century).
The area of the monastery, which includes the churches of Santa Maria in Solario (XII century) and Santa Giulia (XV - XVI cen.) and three Renaissance cloisters, was acquired, after the Napoleonic suppression, by the city of Brescia where in 1882, ushered in the church of Santa Giulia the Museum of the Cristian Age.