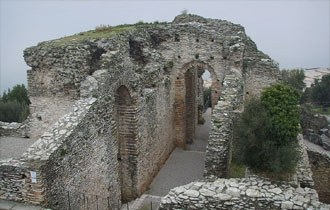 On the south coast of Lake Garda, at the end of the peninsula of Sirmione, in a splendid panoramic position are the remains of a Roman villa known for centuries as the "Grotte di Catullo", the most magnificent example of private building of noble character in the whole North Italy.
During the Renaissance, the name of "caves" or "cavern" was used for underground structures and During the XV and XVI centuries, the tradition has identified this complex as the family villa of Catullus, the Latin poet who died in 54 BC.
According to the testimony of Catullus' it is certain that he had a residence in Sirmione, but it is not certain it was in this area. Sirmione belonged to Verona and, in the past, it was known to be a station along the important road that joined Brescia to Verona.