Gargnano has existed since the days of Rome. In 973, after the barbarian invasions, it was transferred to the Cathedral of Verona by the Bishop Eriprado. With the arrival of St. Francesco on the Garda lake, his followers built a convent in Gargnano, in XII century. Later in 1280, they built a church with a beautiful portal dedicated to St. Francesco. It was built with the material of a pre-existing Romanesque church. In 1331 Giovanni of Bohemia gave Gargnano to the family Castelbarco. During Venetian rule, from 1427 to 1797, Gargnano joined the "Magnifica Patria" becoming the capital of a group of different towns. The '700 was a very interesting period for Gargnano, thanks to the Bettoni family, who built a splendid villa there. The Feltrinellis provided the construction of the hospital, of the children's nursery schools and of other charitable works. The two Feltrinelli's villas have hosted Mussolini and his government of the "Republic of Salò".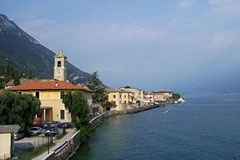 The English writer D.H. Lawrence also stayed for a long period. In many of his works we can find many marks of the landscape and the inhabitants of Gargnano and fractions.
This is one of the reasons why each year, the FAI, in cooperation with the Foundation CAB (Credito Agrario Bresciano), organize a splendid event in spring, which attract many visitors. The garden of delight, displays domestic plants and rare flowers.

The garden of Palazzo Bettoni Cazzago is distinguished from the others for the refinement and the cultural message that it sends. it takes care of promote the study and protection of the ancient lake gardens. Moreover it pays careful attention to new trends in landscapes and to the preservation of rare species. It offers visitors the opportunity to admire a large quantity of flowering plants, fruit plants and herbs, from topiary (the art of pruning plants following geometric shapes) and shade plants, grown and made for the occasion from the largest producers and farmers. During the three days of opening, the FAI has more than twenty volunteers for the visit of the eighteenth century garden, that reaches high levels of excellence and therefore attracts enthusiasts from all around the world.